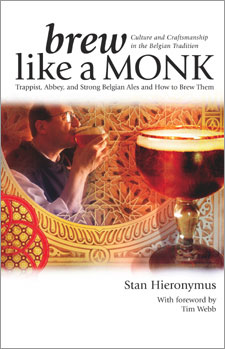 I've been holding off on writing this review both because I had other things to write about an because I wasn't entirely sure how I felt. Stan Hieronymus' Brew Like a Monk can be a really interesting and fun read at times with beer and monastery histories and descriptions flowing off the page. At other times it feels as though things are a jumble, processes and facts get repeated or thrown out at strange times. While I like the way the author goes about making each brewery and its beer into a story, it sometimes feels as though there's nothing to tell.
On the actual recipe formulation side of the book some of the recipes given seem a bit off and he often utilizes brewers to come up with recipes for styles they don't brew or at the least don't specialize in. Why not ask them about something they actually know? While I'm sure Ron Jeffries (Jolly Pumpkin) or Vinnie Cilurzo (Russian River) respective recipes for a Blonde and a Golden strong are nice, I would much rather they gave ideas for sours which they specialize in, or at least Orval clone ideas.
All around I found the book a worthwhile straight through read which I may come back to next time I brew a Trappist inspired beer and which helped in formulating my recent quad recipe. Far from the worst but also not among the best as far as beer books go. I look forward to reading the author's other work including
For the Love of Hops: The Practical Guide to Aroma, Bitterness and the Culture of Hops
but hope it is better edited and less scatterbrain.